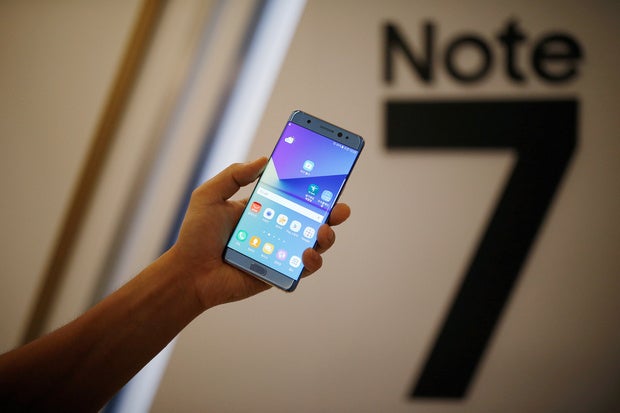 After reports that some Galaxy Note 7s have caught on fire, Samsung said Friday it will stop all sales and replace all of those devices now owned by customers.
But the South Korea-based company so far remains unclear in its public statements about what a customer should do immediately with that model of smartphone in their hands.
Should a customer stop using a Note 7 right now because it might catch fire? Should a customer stop charging the phone because the reported fires are related to a battery issue, as Samsung said in a statement on Friday?
The answer, several analysts said, is to use your common sense. Several said that Samsung noted there have been just 35 cases of fires reported globally to date, with some 2.5 million Note 7s already sold — a tiny proportion. Some observers suggested customers should go to the place where the phone was purchased and see what a replacement plan will be, possibly seeking another phone to use until a replacement Note 7 arrives.
And, they wondered, once the replacement Note 7 becomes available, what assurances will there be that it won't also catch on fire? Customer service reps for both AT&T and Verizon, when reached by phone, weren't able to offer much insight.
"We have no recommendation from anybody to stop using a Note 7, but we've been told, basically, to watch it during charging, that there's no sizzling," said an AT&T customer service rep who asked not to be identified because he's not authorized to talk to the press.
A Verizon service rep said, "that is a great question" when asked what to do with a Note 7 today, following reports of fires with some. She then said to reach out to Samsung at 888-987-4357 or www.samsung.com.
Samsung's service line had a recording that explained it was getting a high number of calls. Computerworld reached a service tech after waiting 45 minutes and was told that it was okay to continue using a Note 7 and to continue charging it as long as it is still working. The tech said to "avoid overheating" the phone as well.
Note 7 customers who provide their phone number and the IMEI 15 digit number on the back of the device will be called back when Samsung has more information on the recall, she said.
The company said in its Friday statement that it will "voluntarily replace" current Note 7 devices with a new one "over the coming weeks" but didn't offer the same advice that the phone service tech offered.
That "coming weeks" waiting game might be a little too much for some Note 7 owners.
"Nobody wants a phone that goes up in flames," said IDC analyst Ramon Llamas. "I'd err on the side of caution. One case of a phone catching on fire is one too many. If there are 35 reported fires, that's too many. I suggest using your common sense."
Gartner analyst Tuong Nguyen said it is a "tricky question" whether a Note 7 user should stop using his or her phone. "I'm clearly not qualified to say what to do, but…. if I have another phone, I'd use that for a while as Samsung works through what to do. Or I'd take it back to the store and see what the channel partners can do about it immediately."
Jack Gold, an analyst at J. Gold Associates, said consumers with little tech experience will have no clue about what to do until Samsung offers more details. "Not to blow this out of proportion is important. It's a very small number of defective devices we are talking about. Even if the total is 10 times the 35 reported, that is a rounding error. There needs to be a PR balance between giving people information and not scaring consumers. So, saying what to do if the phone gets smelly or overheats may actually be too much information for some to understand and may actually scare them needlessly."
Nguyen said it will be interesting to see how Samsung offers assurances that the replacement Note 7's, once available, are safe. "It's bad publicity to have your flagship product literally go up in flames," he said. "They are an honorable company and … they have to convince people it won't happen again."
He added, "Personally, I don't think it's cause for huge alarm, but it comes down to individual tolerance. Some might worry if they charge it overnight and leave it plugged in the next day, the worst that could happen is if the house gets burned down."
Llamas said he generally tells people not to charge any phone overnight, mainly because it can lead to battery wear over many months of doing so.
Ultimately, Samsung may find that a product from an outside company — like a third-party battery charger — was related to the fires, Nguyen said. Some reports have speculated that the lithium-ion batteries inside the Note 7s are to blame, which Samsung seemed to indicate when it said, "we are currently conducting a thorough inspection with our suppliers to identify possible affected batteries in the market."
Patrick Moorhead, an analyst at Moor Insights & Strategy, said that Samsung has "done a pretty good job so far with the recall, but could take that next step and tell current users what they should do right now with their phones."
He added: "If consumers and channels feel like they were treated fairly, then I don't see any long-term repercussions. The biggest brands have had recalls and we just forget about them unless we feel wronged in some way."
Gold said that it is likely that Samsung doesn't actually know the extent and cause of the problem. "I give them credit for trying to stop any potentially dangerous situations proactively."
Source: itworld.com